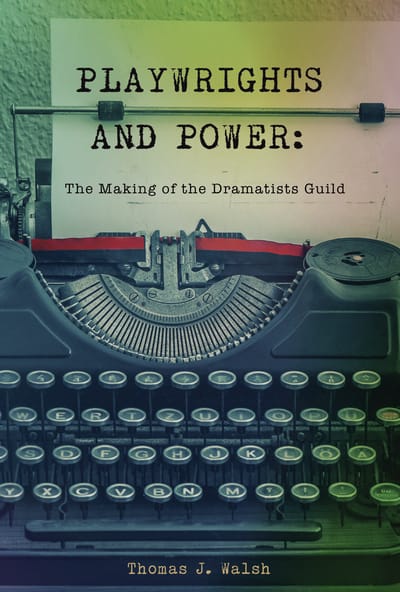 2016
PLAYWRIGHTS AND POWER: THE MAKING OF THE DRAMATISTS GUILD
by Thomas J. Walsh
Smith and Kraus Publishers
To order on Amazon:
https://www.amazon.com/Playwrights-Power-Making-Dramatists-Guild/dp/1575259036
In this new and insightful history of the Dramatists Guild of America, historian Thomas J.Walsh reveals for the first time the people, the passion and the pocketbook issues that lead to the creation of what many call the strongest writers organization in the world.
Based on extensive research Walsh delves into the evolution of playwrights' authorship rights in America.
- George Henry Boker's efforts in the mid-nineteenth century to extend copyright protection for dramatic writing to include royalties for productions.
- Bronson Howard's creation of the Dramatists Club to combat the powerful Theatrical Trusts of the late-nineteenth century.
- Arthur Train and the creation of the Authors League to defend an author's ownership of his or her copyright.
- George Middleton and Arthur Richman's effort to organize the American playwrights of the 1920s (including such authors as Eugene O'Neill and Rachel Crothers) together to protect their rights over the production of their work with the adoption of the first Minimum Basic Agreement between playwrights and theatrical managers. Included in that historic 1926 Agreement:
- no altering of any part of the text without the author's approval
- cast, director and production elements must be approved by the author
Walsh contextualizes his study with a look at preceding and parallel authorship issues.
- The early authorship practices of the Elizabethan period. How did Shakespeare and his contemporaries look at their position as authors?
- A look at the unique publishing and production practices of George Bernard Shaw that influenced the founding members of the Guild.
- A concise telling of the unsuccessful parallel attempt by the Hollywood script writers of the 1930s to create an organization mirroring the Dramatists Guild to protect the rights of screen writers.
In this illuminating and detailed history Walsh concentrates his study on the contracts, characters and conflicts that produce the founding of the Dramatists Guild and its growth and challenges through the end of the twentieth century. His work is an exciting new look at what has been called "the playwrights' century" in America and how the Dramatists Guild encouraged, supported and fought for its member authors.
Playwrights and Power: the Story of the Dramatists Guild is a ground-breaking look at the theory and history of authorship and playwriting in America.