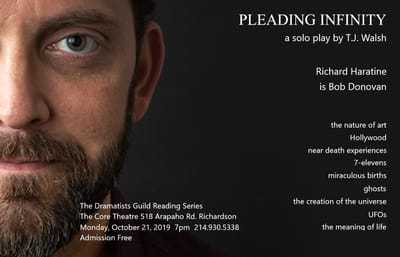 PLEADING INFINITY by T.J. Walshnytheatre.com review
reviewed by Todd Carlstrom · NY International Fringe Festival
I'm going to be frank: seeing a one-person show makes me worried. It's more of an all-or-nothing proposition than a multi-character offering, simply because I'm charging one single person with my evening's entertainment. Fortunately, in the six monologues that comprise
Pleading Infinity
,
T.J. Walsh proves himself eminently worthy of such responsibility.

As Bob reveals details about his family life, both as a child and now as a husband and father, his priorities come into focus,
and an unexpected tenderness emerges gracefully from the script.
His gradual transformation from thoughtless cynicism to spiritual self-realization happens (super)naturally,
never seeming forced.

As the show progresses, the emotional arc of Bob's journey moves to the fore.
This is Walsh's real accomplishment as a playwright and story teller, and is all the more remarkable for the subtlety with which it occurs.

* * * *
criticalrant.com
Theatre Reviews & Perspectives: Reflect, Intersect, Inspire
by Alexandra BonifieldPleading Infinity: a solo play
My final two notables of 2019 are workshop stagings of works that demonstrate much promise.... Back into the solo actor realm, regional playwright and author, professional stage director and TCU theatre professor
Thomas J. Walsh brought his spooky yet poignant
PLEADING INFINITY
to Richardson's Core Theatre, as part of The Dramatist Guild Reading Series.
The quirky, engaging show
featured veteran actor and Texas Wesleyan professor Richard Haratine. Negotiating plot twists reminiscent of The Twilight Zone, the solo actor plays a screenwriter revealing conversationally his life experiences relating to Hollywood, near death moments, birth, ghostly haunting, UFO visitation, the nature of art and the universe's emergence.
Beautifully crafted as a literary work and acted equally well, the show provides intrigue and charm as it glides towards completion as a work.
It's had other [performances in Fort Worth, Los Angeles and New York City]. Superior script by Walsh meets sterling performance by Haratine. Hope for a full regional mounting in 2020. The Core Theatre, Richardson TX